Top 10 Residential High-rise Condos in Downtown San Diego
Posted by Richelle Jett on Thursday, October 20, 2022 at 2:15 PM
By Richelle Jett / October 20, 2022
Comment
Downtown San Diego features 7 main neighborhoods, each with its own style and personality. There's something for everyone depending on the lifestyle you're looking for. Here's our top 10 favorite buildings in Downtown San Diego:
CityFront Terrace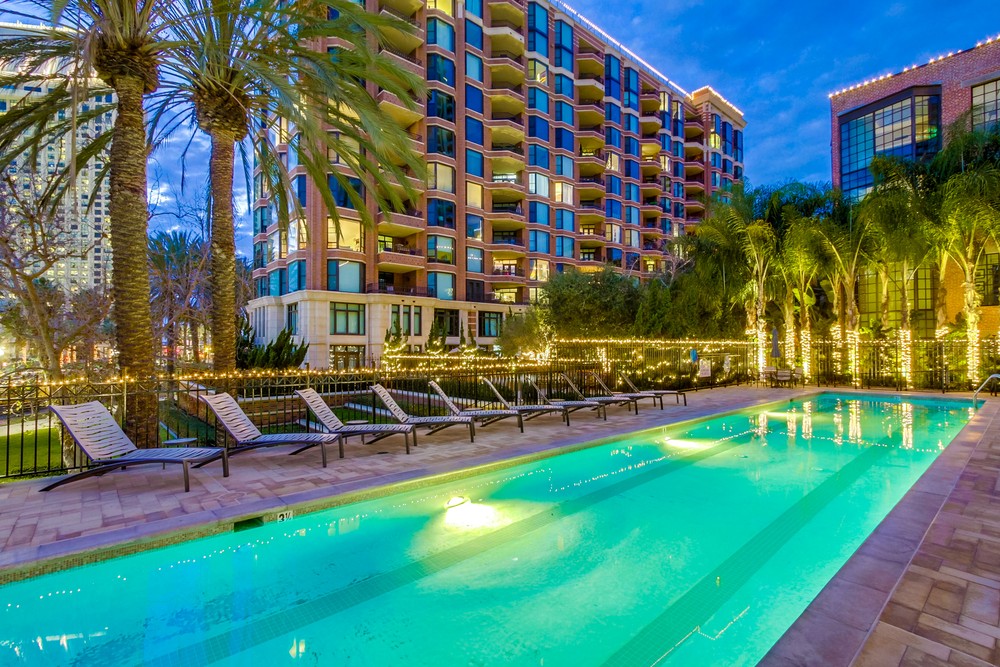 CityFront Terrace is one of Downtown San Diego's most filmed buildings. Developed back in 1991 by an architect from Chicago, this unique complex was joined with the Historic Citrus Soap Factory making this one of California's largest brick buildings. This complex features some of Downtown San Diego's best services - this could be due to the fact that the building is self-managed and the HOA managers are on-sight! The building also has one of the best reserves of funds! Valet parking is also available. CityFront Terrace also has the largest complex gym in all of downtown - it's 3500sf with a weight room and private mirrored room with wood floors where residents enjoy personal training sessions, workout videos and dance classes. Another great feature is that there are two pools - one is a lap pool and the other is a splash pool, which is a smaller, more secluded and quiet pool perfect for total relaxation.
The median price for a property in CityFront Terrace is $1,000,000. Here is a list of Available properties in CityFront Terrace.
Pacific Gate
Pacific Gate is an architectural gem where nearly every condominium has a view of The San Diego Bay! At 41 stories tall, its stunning design is a wonderful addition to the Downtown San Diego skyline. Many enjoy the rounded architecture as it separates itself apart from the typical floor plans found in high-rise complexes. This building's amenities are top-notch and include a 45 foot yacht share, access to a private fleet of luxury vehicles, a special pet area, and concierge services along with all the other typical amenities of an Ultra-Luxury High Rise Condominium. It is important to note that this building does command some of the highest monthly HOA dues and each condo is sub-metered, so water is paid by each owner individually, rather than being included in the monthly homeowners dues.
The median price for a property in Pacific Gate is $1,810,000. Here is a list of available properties in Pacific Gate.
The Pinnacle Marina Tower
The Pinnacle Marina Tower is a 35 story luxury condominium high-rise located in the heart of the Martina District, one of Downtown San Diego's quieter and most residential neighborhoods. Many homeowners enjoy the close proximity to Seaport Village, grocery stores, and restaurants and shops in the nearby Gaslamp Quarter. Most units in the building will have water views, even if just enjoyed from the balcony. This complex also enjoys some of Downtown San Diego's finest amenities including concierge, pool, spa, gym, sauna, steam room and party room. One downside for some is that this building tends to have smaller bedrooms, but what they lack in the bedroom, they make up for in the large kitchen and living space along with the 10 foot ceiling heights. Each unit has sizable balconies as well and the corner units have 2 balconies. Many residents at The Pinnacle enjoy hopping downstairs to Richard Walker's Pancake House or calling in an order where they will happily deliver it to your door - no need to wait in that line that forms around the building!
The median price for a property in The Pinnacle Marina Tower is $1,130,000. Here is a list of Available properties in The Pinnacle Marina Tower.
Doma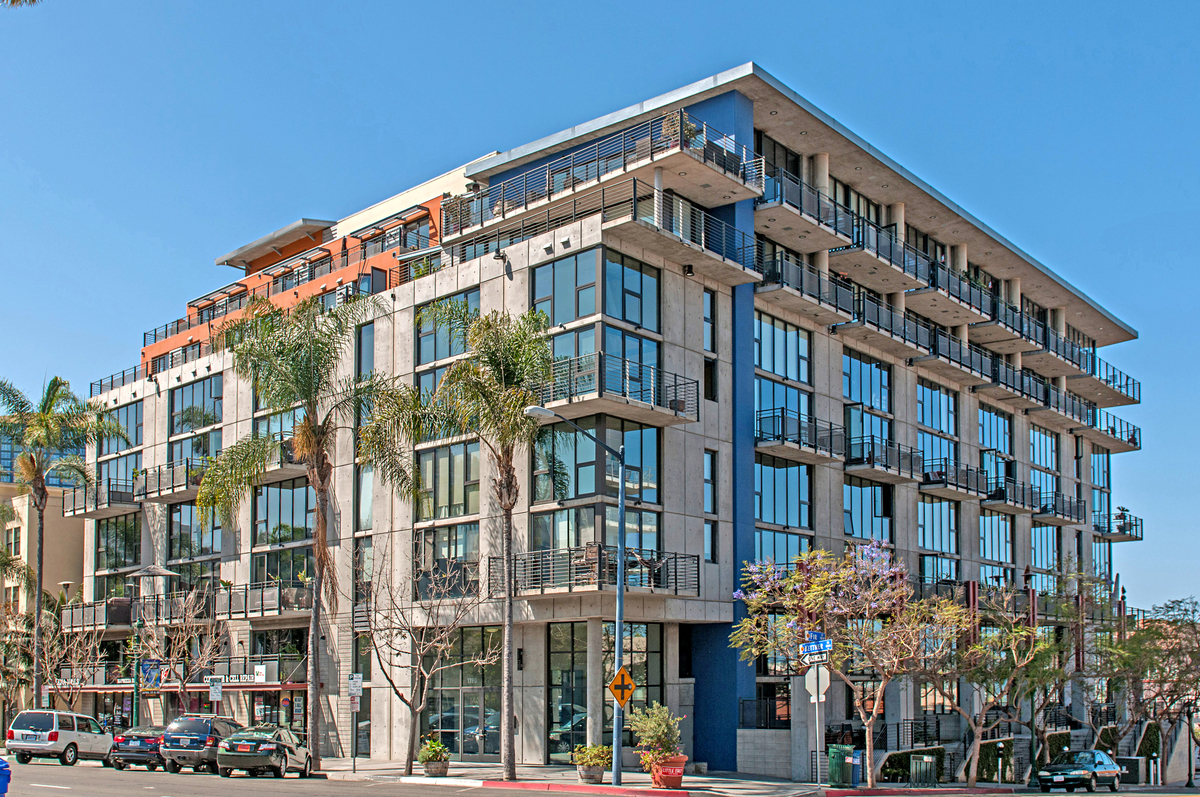 Doma consists of two separate addresses as there are two very distinct buildings that make up Doma. One features one and two-story traditional style townhomes and flats and the other building has a very industrial feel with exposed concrete, floor to ceiling windows, live/work options and some even have their own separate walk ups from the street. You are just steps from the Embarcadero, the weekly Saturday and Wednesday farmer's markets and some of San Diego's best restaurants and shops in Little Italy. So much to do and see just out your door. The complex features a two-story gym, spa and sundeck with grills perfect for entertaining and taking in the bay views. There are a variety of commercial retail spaces on the ground floor of the building - making running some of those errands quite easy.
The median price for a property in Doma is $1,057,500. Here is a list of Available properties in Doma.
Horizons
Horizons is the second high-rise building project built in San Diego by Nat Bosa, a Canadian developer who is responsible for much of the beauty that makes up our downtown skyline. These twin towers stand 24 stories high and command beautiful views of the bay, ocean and city lights, depending on which side of the complex you are on. In between the two towers is a shared pool, spa, gym, and water fountain feature. Horizons is one of the few complexes downtown that has a parking garage attendant and also guest parking spaces, which is a nice added feature. It is also appreciated that the property management office is on-site!
The median price for a property in Horizons is $1,002,000. Here is a list of Available properties in Horizons.
The Mark
The Mark is one of East Village's nicest residential high-rises located on the west end of East Village near the Gaslamp Quarter. Just out your door you can enjoy restaurants, shops and bars. Its sleek contemporary design is paired with concrete walls, giving it that ultimate urban-vibe. The luxury interiors include 9' ceiling heights on floors 2-19 and 10' ceiling heights on floors 20-31. Great views from every side of this high-rise - the bay, Petco Park, city lights, Balboa Park, mountains, you name it! This building has 24 hour concierge services along with lap pool, generous-sized hydrotherapy spa, fully-equipped gym, sundeck with cabanas and a nice grassy area.
The median price for a property in The Mark is $685,000. Here is a list of Available properties in The Mark.
The Meridian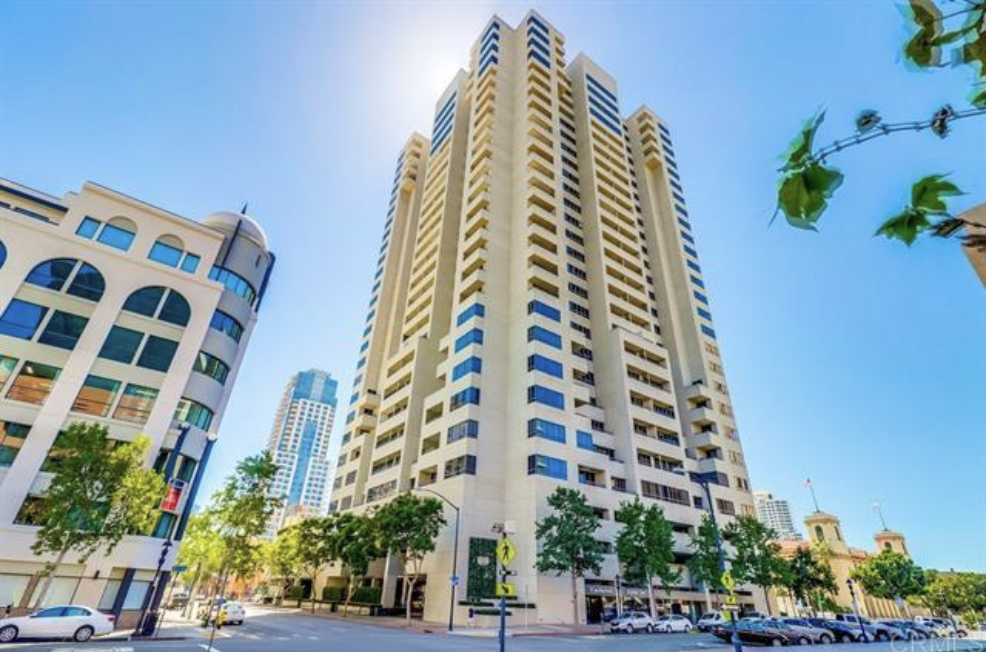 The Meridian is one of Downtown San Diego's older residential buildings known for its timeless design. Well-built with 3 feet of concrete between each floor, this complex is highly insulated to ensure a quiet home. It also has all the amenities one could ask for - valet service, white-gloved doormen, concierge services, gym, amenity room and five guest suites for your out of area visitors. This building features some of Downtown San Diego's largest homes as many of the condominiums have been combined with other units over the years. And if you love European food, just downstairs is one of Downtown's finest restaurants - Salvatore's Cucina & Lounge!
The median price for a property in The Meridian is $1,650,000. Here is a list of Available properties in The Meridian.
The Legend
The Legend is the only high-rise complex built inside the Petco Park stadium and it's the perfect place for San Diego Padres fans! If you're lucky, your condo will be facing directly into Petco Park where you can enjoy the game, concerts and even Monster Truck Racing! For those that don't have a direct view, you can take the elevator to 'Club Legend' - a giant rooftop with an outdoor fireplace lounge on the 7th floor overlooking the ballpark. The building features baseball memorabilia, contemporary finishes and great amenities, including: pool and spa, steam room, hot sauna, changing rooms, a fully-equipped fitness room, a rooftop garden, and barbecue area.
The median price for a property in The Legend is $812,000. Here is a list of Available properties in The Legend.
Bayside
Bayside is a true treasure located adjacent to the Little Italy area, on the North end of Pacific Hwy, just a block from the Embarcadero. The amenities are some of downtown's finest which include concierge services, pool, lounge area, spa, BBQ areas with outdoor dining spaces, fully-equipped gym, steam room, sauna, theatre room, pool table, wine tasting room, conference room and more. The condos have open floor plans with large balconies, perfect for taking in the incredible views. Across the street is Waterfront Park, a 12-acre green space featuring a magnificent 830-foot-long fountain with water jets, playground and expansive bay views for all to enjoy, including pets. The area also has concerts throughout the year.
The median price for a property in Bayside is $1,335,000. Here is a list of Available properties in Bayside.
Aperture
Aperture has some of the lowest HOA fees in Downtown San Diego and is perfect for someone who doesn't care to have amenities and all the bells and whistles that some of the other complexes have. Some of the favorite features of this complex are the exposed concrete walls, open floor plans, floor-to-ceiling windows and nice-sized balconies. The Little Italy location is also great along with its close proximity to the 5 and 163 freeways. There is also a nearby dog park and great coffee shops all around to grab your favorite drink while mingling with the neighbors and your pooch.
The median price for a property in Aperture is $850,000. Here is a list of Available properties in Aperture.
Downtown has something for everyone. Many different price points, neighborhoods, and amenities. If you're looking to buy, sell or invest in Downtown San Diego real estate, we'd love to be a resource and help you with your real estate goals.
If you have any questions, let us know below.